Picking a kitchen splashback can be one of the most difficult decisions of the whole kitchen design process! But, choose the right splashback and it could be the hero of your kitchen.
Contemporary kitchens are moving away from traditional tiles and plain glass options and exploring more texture, pattern and colour to create an impressive focal point.
Here are 14 stunning kitchen splashback options to inspire you!
Window
What a gorgeous way to let natural light in to your kitchen! Window splashbacks are increasingly popular, and by using a frameless window like this one, it gives your kitchen a beautiful, open and airy feel. Plus, if you're a stickybeak like me, it's a great way to keep an eye on what's happening outside.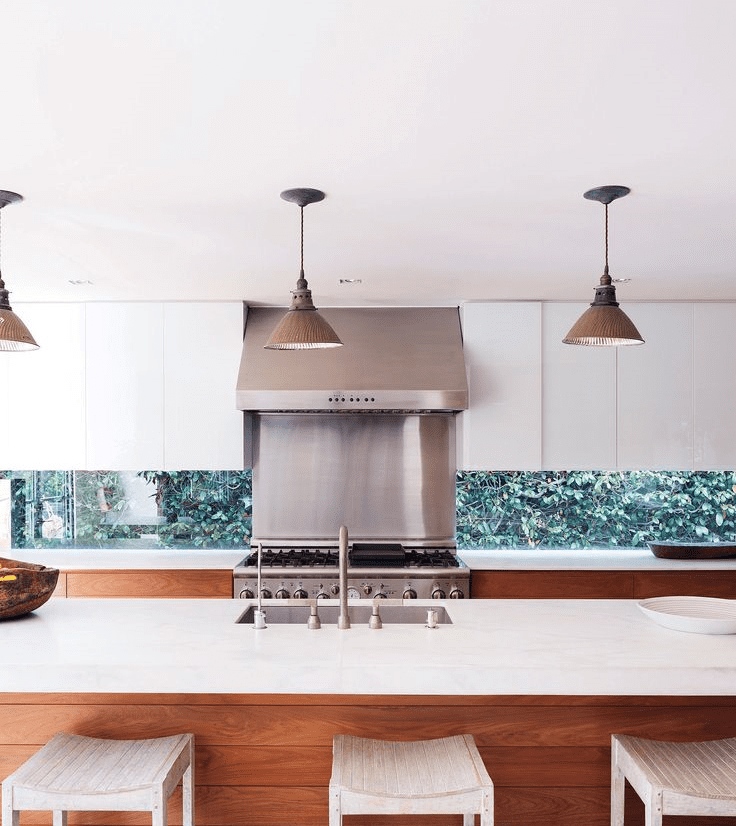 Pressed metal
Pressed metal has had a bit of resurgence in recent years, and while it's not for everyone, there's no denying it can be a great statement when paired with neutral cabinetry. Also available in blingy metal, this matte black splashback adds interesting texture to an otherwise simple kitchen.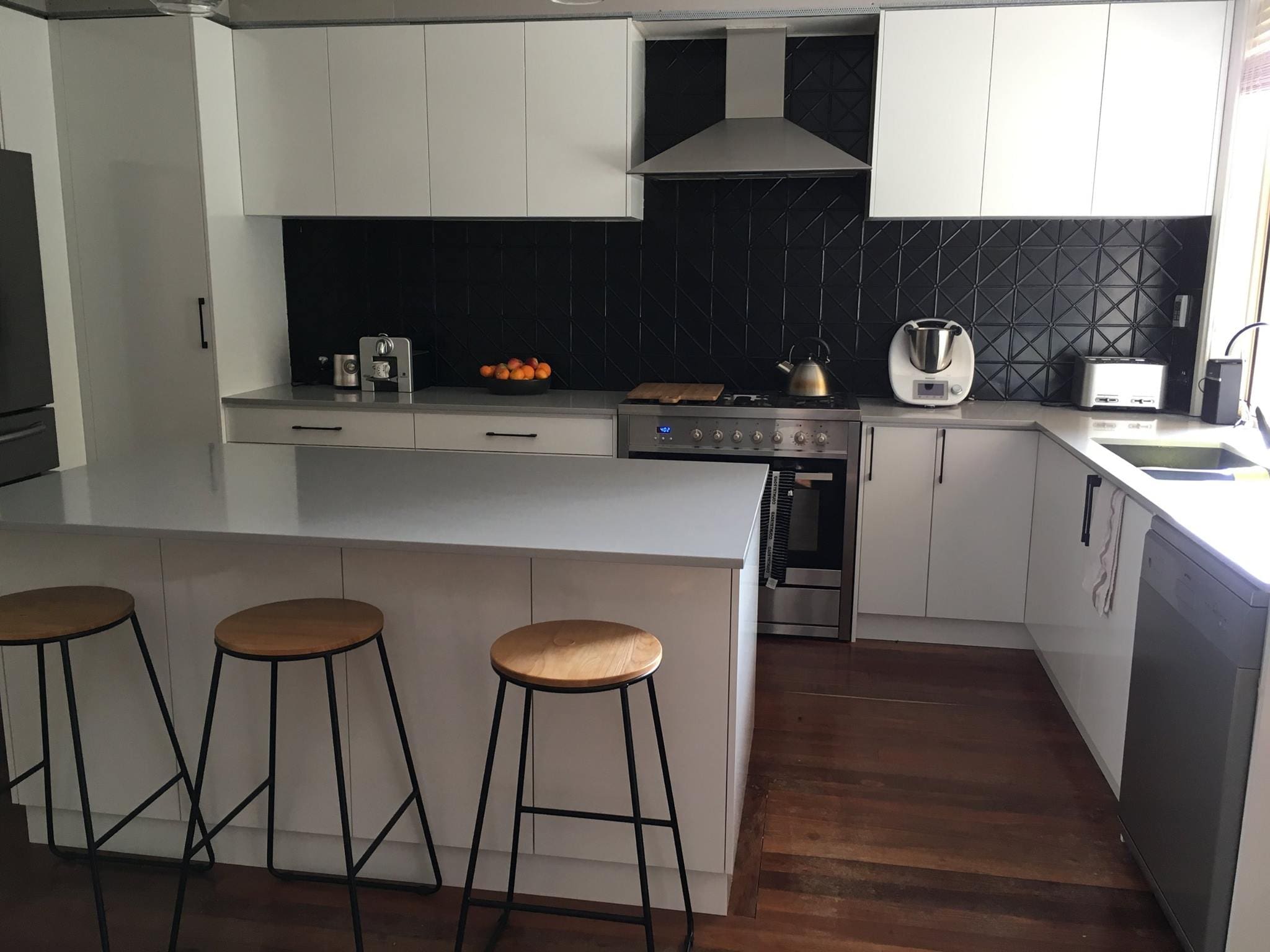 Bold, patterned tile
Tiles might sound like an option that's been done to death, but how unusual are these graffiti-style tiles? Talk about a way to add attitude to the space!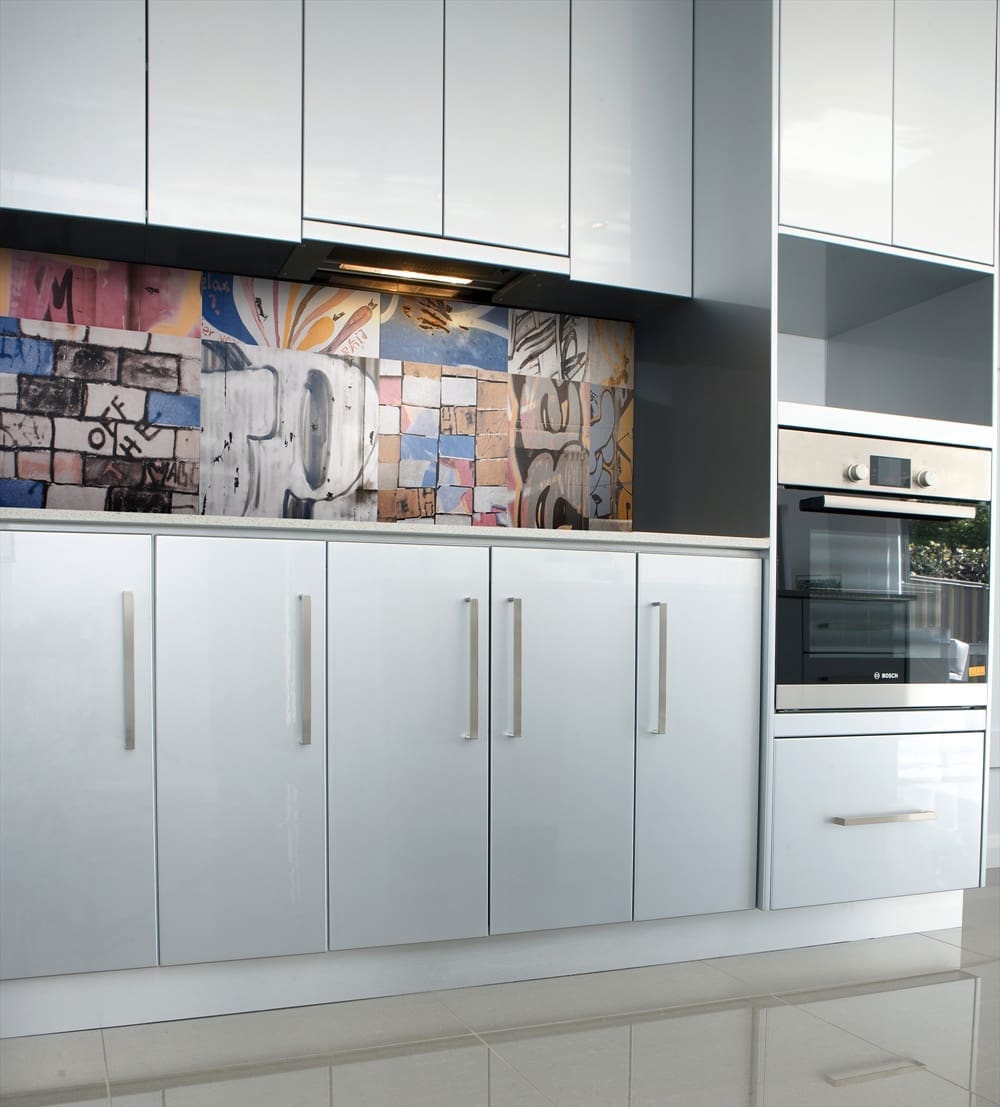 Metal
Stainless steel splashbacks have been a popular option for many years — easy to clean and no grout joins being just some of the benefits. Recently other metallics, such as copper have become more popular but this gorgeous brass splashback has got to be our fave! It's understated, yet fancy. Plus, it looks divine with this simple, olive cabinetry.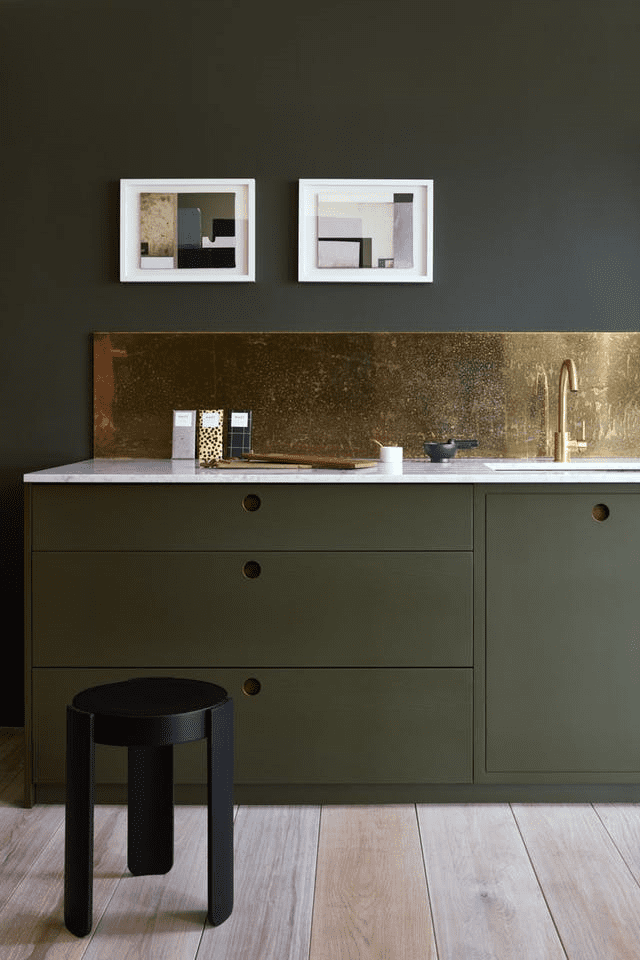 Exposed brick
For an industrial feel, this exposed brick is just perfect. Paired with that sleek dark cabinetry, it's a winner for sure!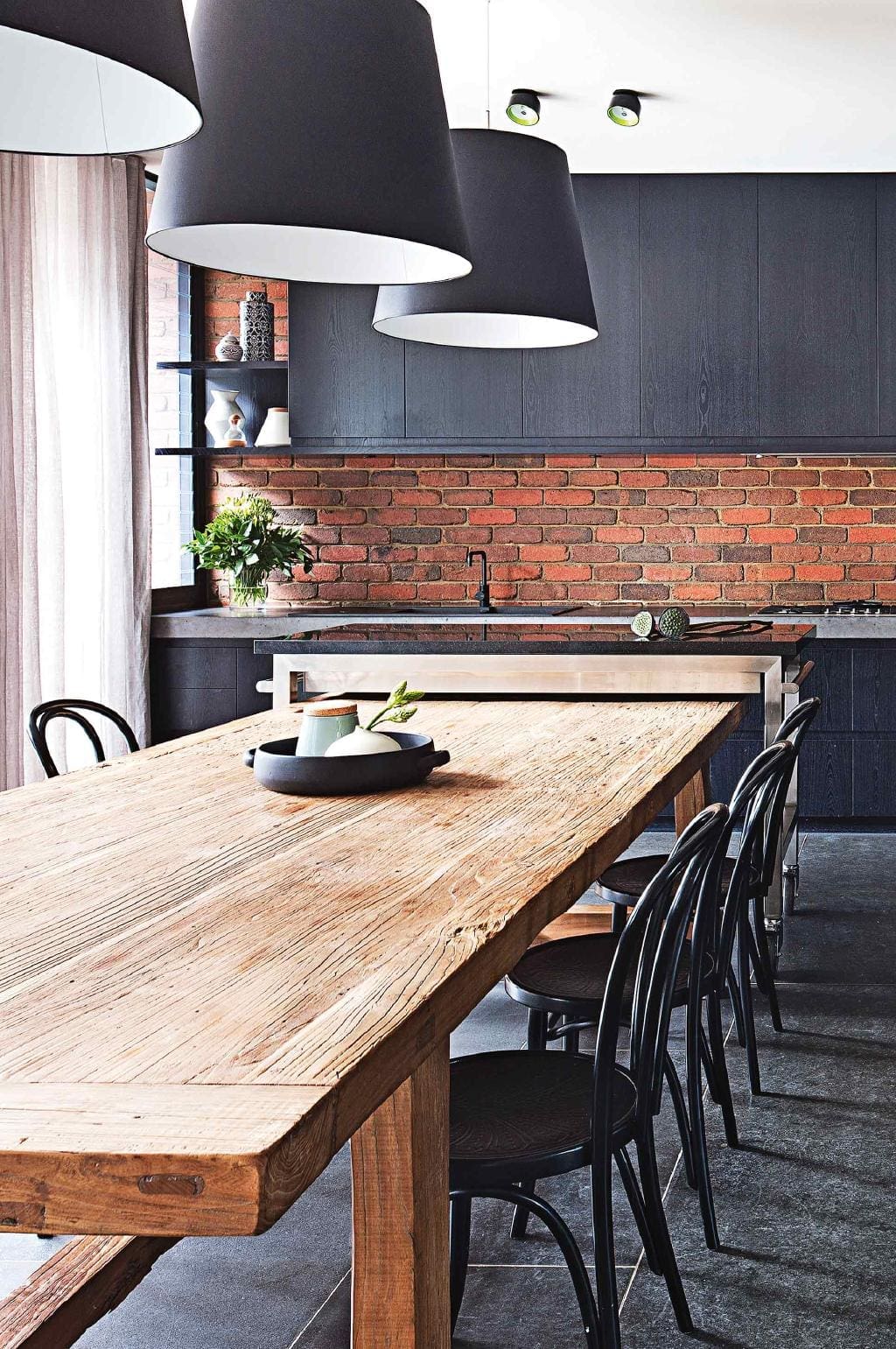 And if cleaning brick makes you nervous, you can place a clear glass panel in front like we did at Bonnie's house (full kitchen reveal coming very soon!).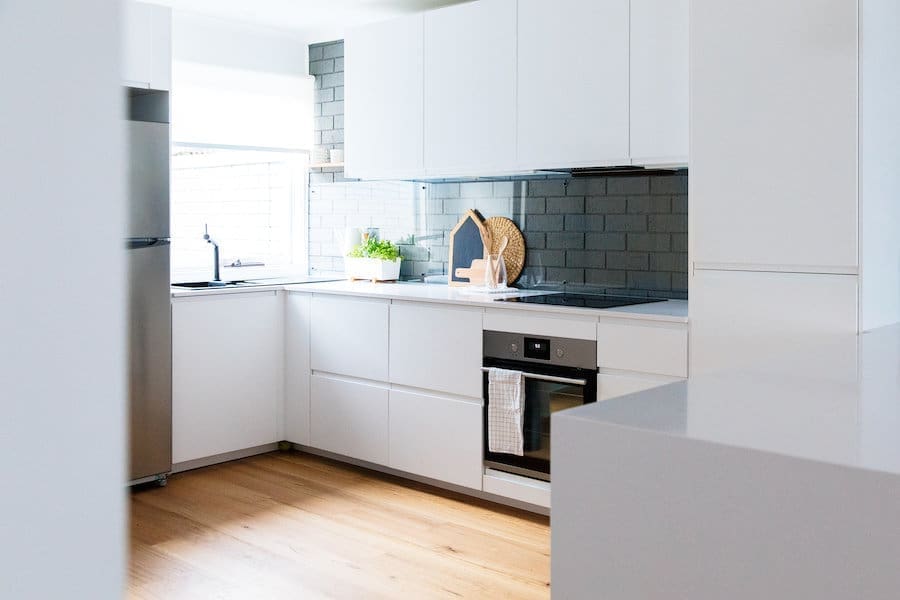 Granite
There's a reason granite remains a popular choice for kitchens, especially when used so perfectly like this. Continuing the granite used as the benchtop right up the wall makes the space look polished and luxurious.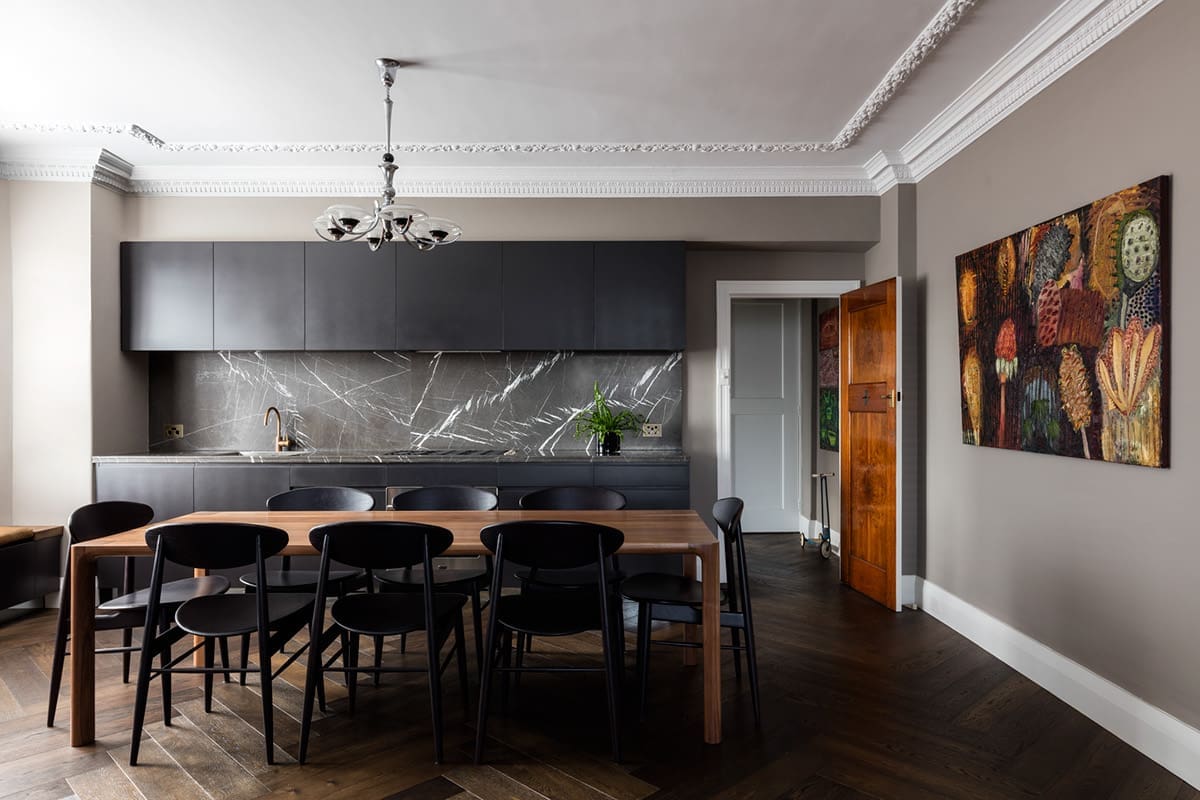 Mirror
Mirror, mirror on the wall, who has the fairest kitchen of all? A mirrored splashback can make your kitchen look twice as big, and as an added bonus is easy to clean. Oh, and if you have kids, you can keep a cheeky eye on them without ever turning around!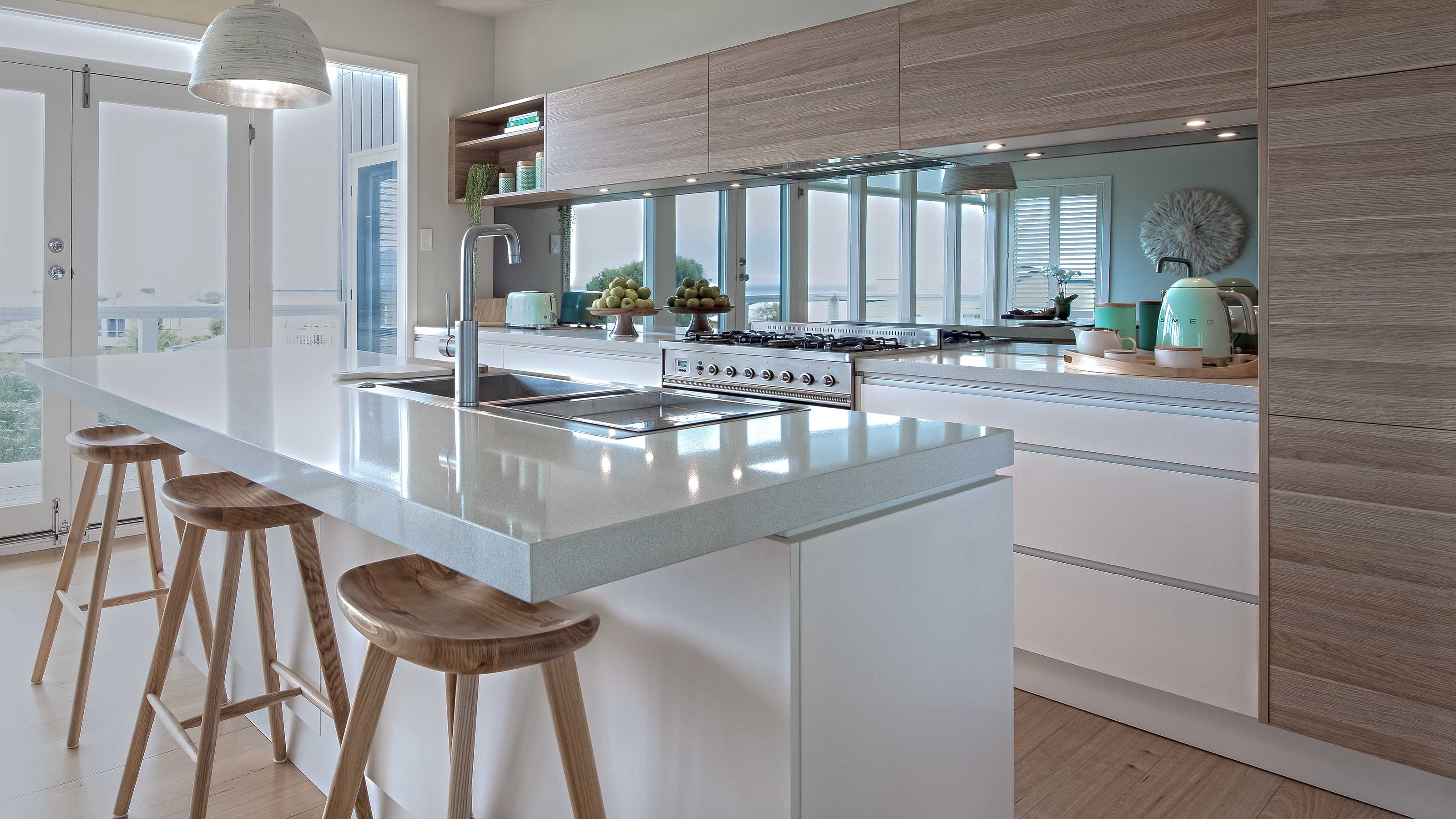 Matte black tiles
Dark and moody kitchens are an emerging trend this year, and when you see products like these gorgeous matte black tiles paired with charcoal cabinetry, it's not hard to see why.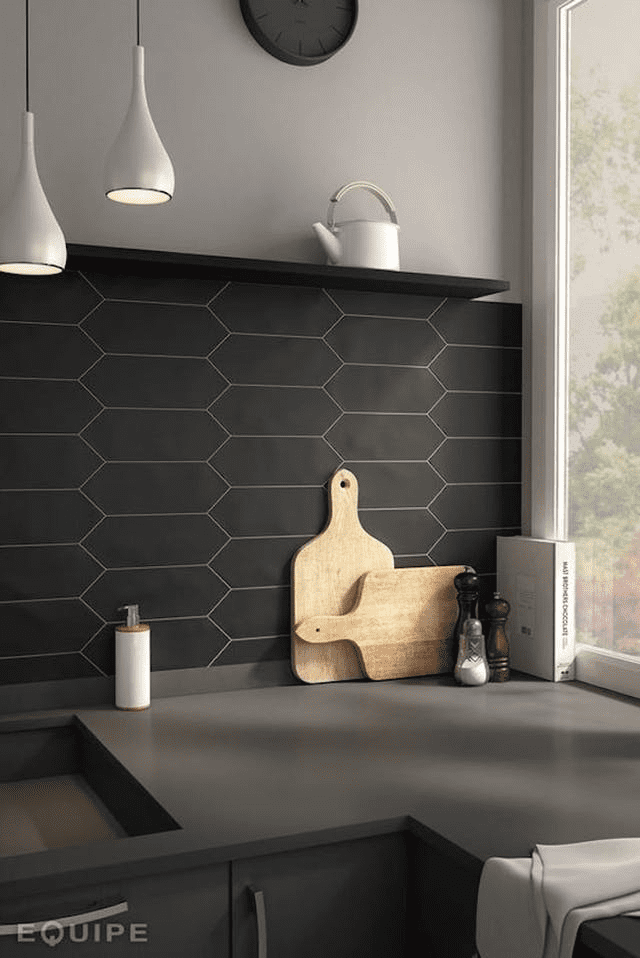 Timber-look tiles
Another unusual tile option is large timber-look tiles. They are an ideal choice in rustic style kitchens and will create a warm and inviting feel.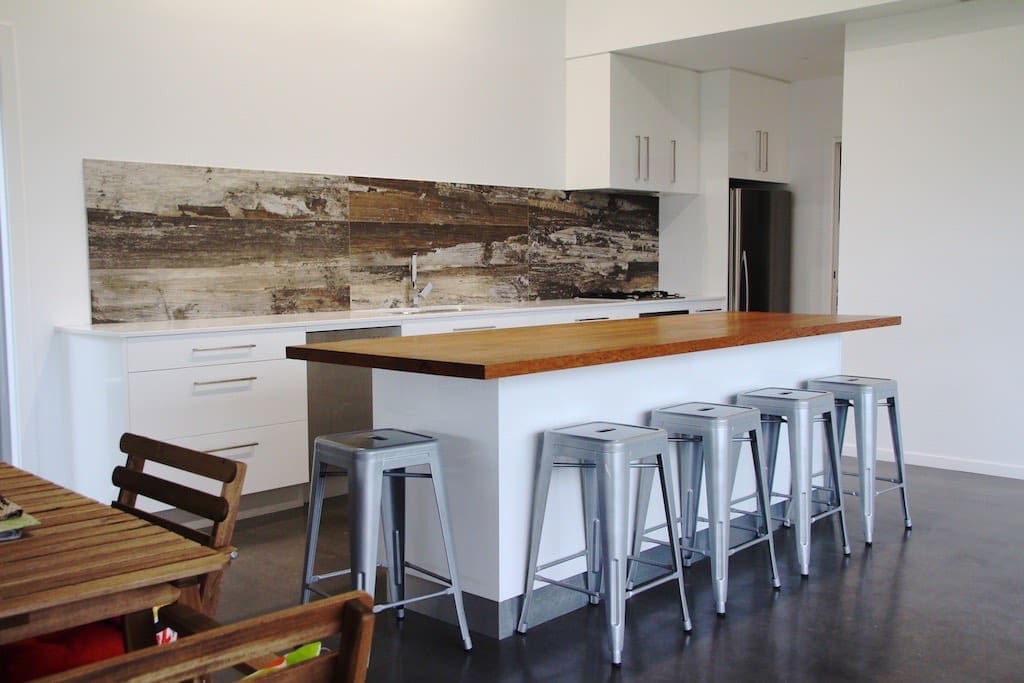 OTT pattern
Holy pattern wall! The simplicity of the cabinetry paired with this eyecatching pattern works perfectly. Oh, and hellooo tapware!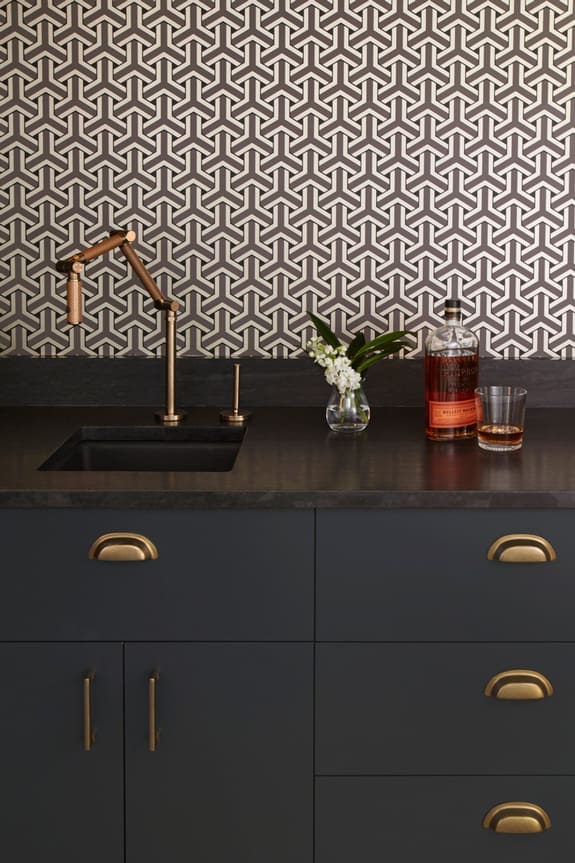 Handmade subway tiles
While some may say subway tiles have had their day, they are an undeniably popular choice in kitchens. If you want to add some texture for a different look, use handmade subway tiles like these ones.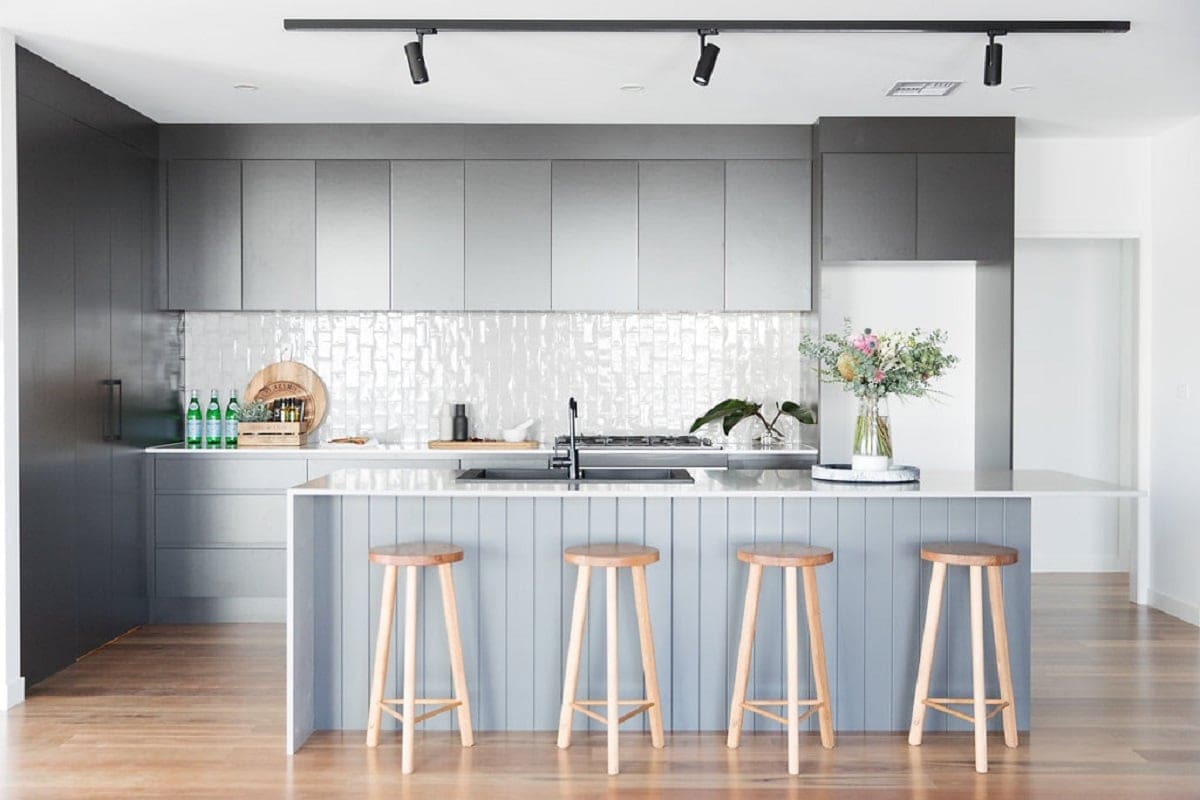 Geometric print tiles
Talk about a statement! This splashback plays with colour and shapes to create a bold splashback. That colour combo and the way it ties in with the two-toned cabinetry is so beautiful.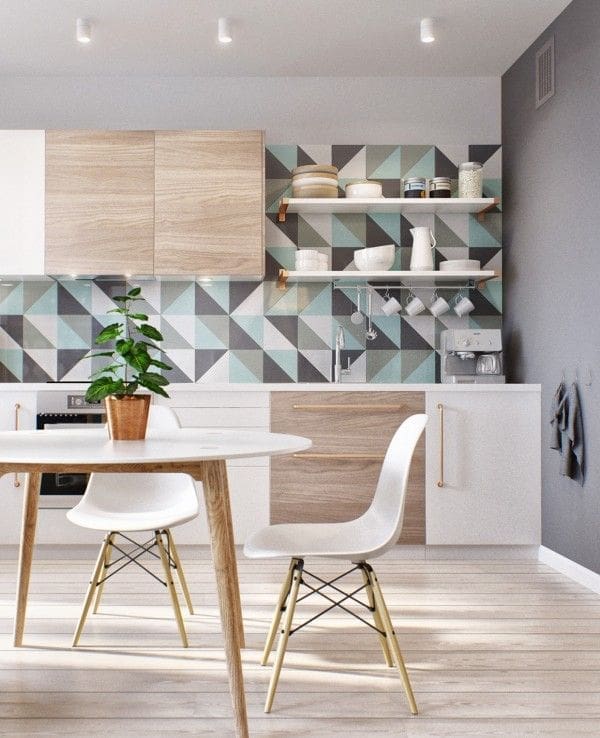 Hexagonal tiles
While hugely popular in bathrooms and laundries, there is definitely a place for the humble hexagonal tile in the kitchen as well. They're a simple and chic option to give your kitchen character, while still maintaining an modern feel.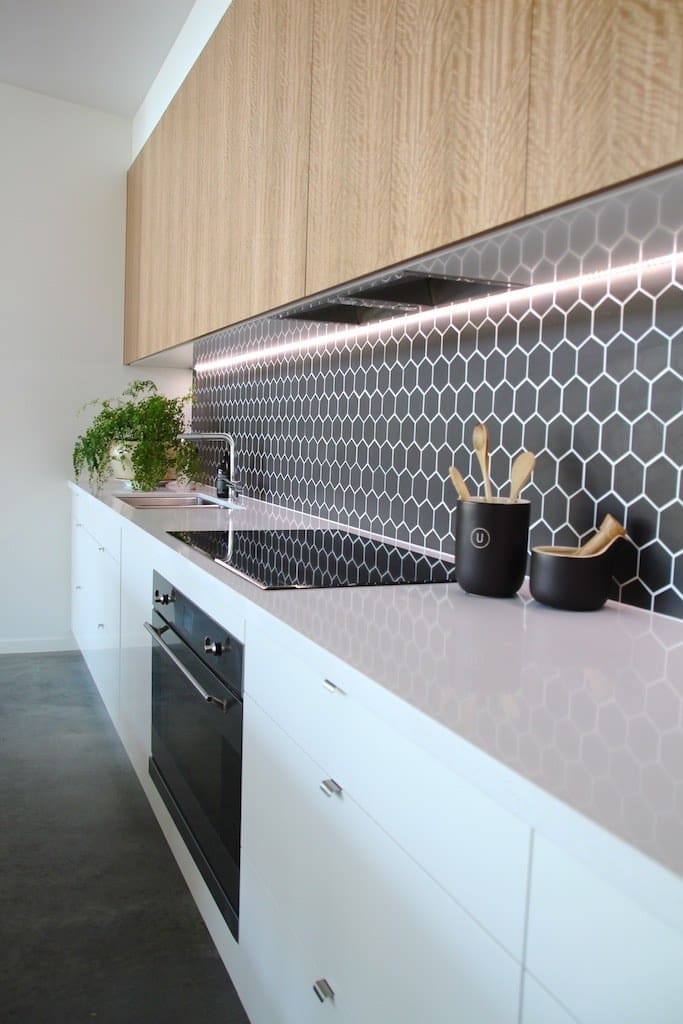 Glossy colour
These gorgeous glossy emerald tiles reflect the light beautifully and by wrapping the tiles over the shelving, the overall look is eclectic and fun.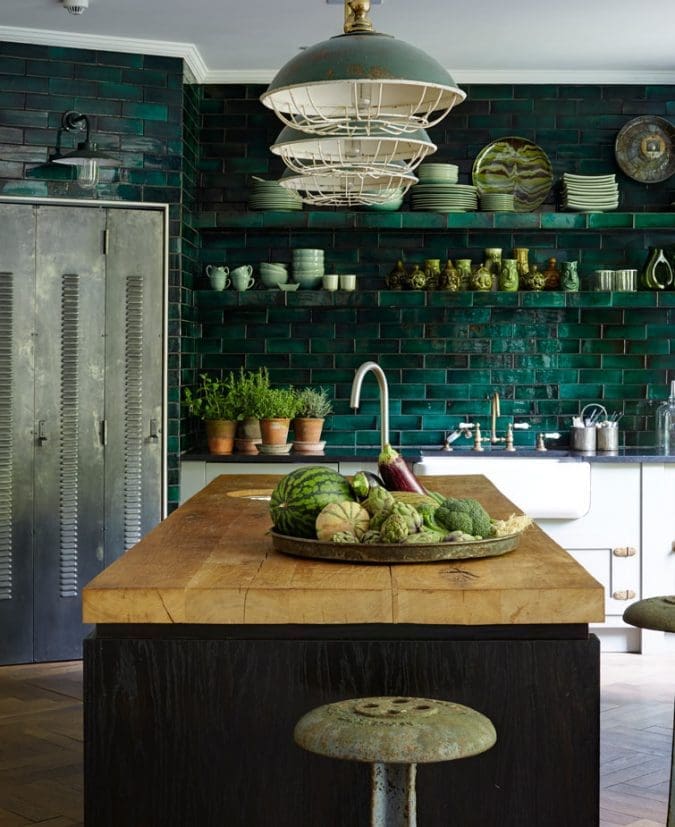 You can also interpret glossy tiles in a more modern way, as Neale Whitaker did with this kitchen he renovated during Love It Or List It Australia.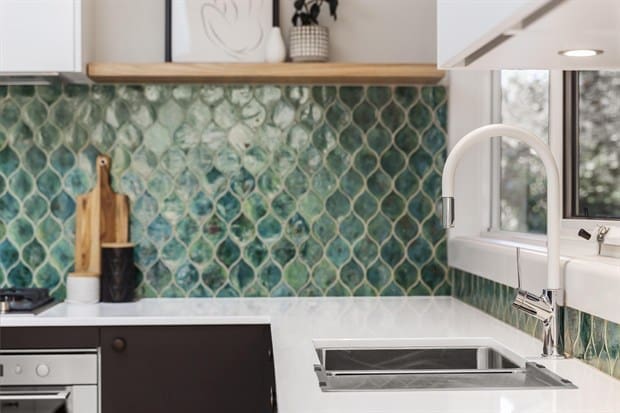 Have you got a favourite? We'd love to hear your thoughts in the comments!