Jazz up shower time with some extra style and vision. These 20 tile shower ideas will have you planning your bathroom redo and renovation in no time. From marble to ones with a bout of color, there's something for everyone below. And there's something for every kind space as well!
We start the inspiration off with this gorgeous bronze subway tiled shower. Paired with a marble tub, this grey tones spark a warm and relaxing tone for the entire space. (via)
Pinterest tends to always bring us beautiful bouts of inspiration as well. We're loving how these lighter and large tiles brings more depth to the shower space.
The variety of tile that make up this shower is impressive and interesting. Marble is always beautiful but put in this artistic and creative context makes it even more so. (via)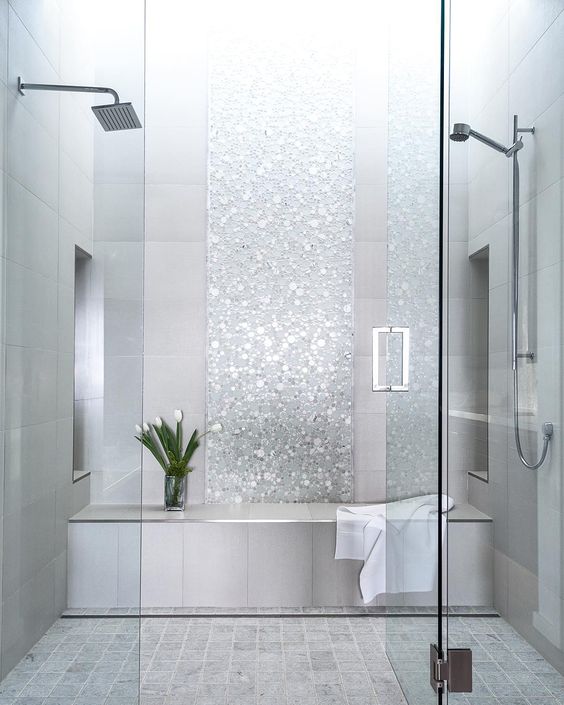 We like tile that adds some sparkling effect to the shower too, of course. If you want something chicer or more glam, get inspired by this Instagram find.
Pinterest gave us this one as well. Sometimes classic is the best way to go , and white subway tiling is always a classic.
But we got something a little more lively and interesting over at, Domino. With a Moroccan flair, you can add color and personality just by picking the right kind of tile for your shower.
Topp Stiles showed off some easy, gray subway tile as well. Again, it's relaxing, it's refreshing and it's easy to care for too. Just pair it with a white soaking tub on the outside.
Here's another classic design that we're swooning for, because of the added detailing. Home Bunch gave us such a good piece of inspiration with this one because it's for more practical layouts in traditional homes.
Decor Pad let us peek further at this white, clean shower. These nooks are so spacious and luxurious, especially when they're finished off with marble tiles.
Here's another beautiful shower filled with varying tile shapes. The marble will always be a beautiful choice, but the layout it up to you. Thanks again, Decor Pad.
Decoist brought us this black beauty. For an edgier and more masculine vibe, this about going with a subway tile with a darker tone.
Maybe you're looking for some color! Your tiles can come in blue, so why not add that whistful feel to your bathroom. If you're going for something more bohemian or zen, this is it! (via)
Open showers really showcase what you've decided to put inside. And, marble tiling can really hold its own in this setting, especially when contrasted with the darker wood. (Digs Digs)
Decor Pad showcased a deeper gray tile that we love too! As long as you've got an open enough space as to not feel closed in, dark tile on the walls is perfectly okay to run with.
Hupe Home has this penny tiling featured and we love how much vivaciousness and youth it brings to the bathroom. There's a bit of lightness and fun brought with that simple of a choice.
If you really want to make things a bit different and personalized, why not colorblock the shower? With marbled blues and white, you can do just that. Thanks for the inspiration Decor Pad.
Liz Marie had this beautiful tiled shower up her sleeve. We love how the dark grout makes the cream tiles pop along with the golden hardware.
Here are more tiles with a personality all their own. Black and white is always in style and that's what you get with this beauty from Domino.
We loved this space so much, it's not the first time we've featured it here on Trendir. Your tile can be made of glass for a super retro and modern blend of styles!
And we leave you off with another Pinterest find. These large, blue tile pieces paired with the stone embellishments make for quite the interesting duo, don't you think?